Independent C.S. Distributor,
Cekaitah- Ekotakihee:
Reference: # 634920,
Email: lifewave@dreamsenders.com
Phone: 1-250-859-8127
http://www.dreamsenders.com/lifewave.htm
LifeWave's IceWave Thermal Patch
Provides relief for
Sore muscles, Sprains, Strains, and Other Injuries
LifeWave Energy Patches
LifeWave Pain Patches
LifeWave Sleep Patches
LifeWave Collagen Patches
We Ship Same Day World-Wide
So, you want PROOF that the patches work?
OK.
Simply CLICK HERE and then go to the
"watch the video" link
We will send you a FREE 3-Day Trial Pack of your choice
of our Energy Patches, or our IceWave Pain Patches, our Sleep
Patches.Normally, (worth almost $20.) You merely cover the
shipping and handling fee of $4.95 and watch an 8 minute video about The Real Story Behind the Patches. The price is the same
for shipping ANYWHERE in the world that we sell our
products. (17 countries at the present time.) You can get a
sample in Malaysia, Mexico, or Madrid. All you have to pay is
$4.95 for shipping. You will also receive our DVD at no charge.
You will also receive emails showing you the numerous ways to
wear the patches depending on your body's own needs and the
type of activity you participate in.

So why are we doing this? Because we know that this
technology is hard for people to comprehend and thus have
any trust that it works. It's no secret that "sampling" is the
most effective and straightforward way for people to learn
about a new product. By sending you a free sample you get to
experience this technology for yourself. Not in a month, or a
week, or even in one day, but within minutes. It really, really
works.

---
---
Need Beauty?

"Beauty From The Inside Out"

Lifewave Technology began with the first and only non-transdermal
LifeWave Energy Enhancer patch technology, the first ever non-drug
alternative for sleep, and in January,
the first nanotechnology for pain. LifeWave now announces their latest breakthrough....

The LifeWave NanoTechnology Skin Care System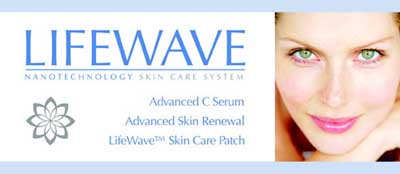 Unlike most skin care systems that focus only on covering up the signs of aging by applying non-effective creams, the LifeWave Skin Care System is completely revolutionary and different from anything else that you have ever seen before.
1) Detox and Refresh The LifeWave Non-Transdermal Skin Care patch – This non-transdermal patch system elevates Glutathione levels, (the master antioxidant), and massively detoxifies the liver as well as protect the skin from future damage. This is now a new way of getting antioxidant into your body to improve your health and appearance without having to swallow pills or drinks. Our studies prove that most people have a dramatic detox effect starting within the first 24 hours of using the patch. This results in more radiant and cleaner skin within the first few days of use.
2) Renew LifeWave C-Serum – Scientist with 35 years of experience in skin care have designed an antioxidant/hydration system not available anywhere else. This Vitamin C serum is completely stable and helps to protect the skin from the damaging effects of UV light. In addition, Hyaluronic Acid is utilized to hydrate the skin.
3) Revive LifeWave Facial Moisturizer - This incredible product both helps to hydrate the skin and deliver the polypeptides that are needed for the skin to experience an increase in collagen synthesis. The result is a very rapid reduction in the appearance of fine lines and wrinkles. This product will help to both protect the skin from future damage and provide you with a more radiant and pleasing appearance. Within days your skin will look refreshed, renewed and revived!
With this Skin Care System we are achieving results never before obtainable by creating "Beauty from the inside out" !
Old skin on top gives way to the new skin underneath as Glutathione and our topicals help to reduce those fine lines and wrinkles. How is this possible? Our revolutionary new patch technology has been proven in clinical studies to elevate your bodies levels of Glutathione, the master antioxidant. What are the benefits?
- Glutathione protects your body from free radical damage !
- Glutathione helps to support the immune system !
- Glutathione promotes liver detoxification of heavy metals !
- Glutathione supports protein structures in the body !
- And of course, Glutathione improves the clarity of the skin !
Dr. Earl Mindell is quoted as follows regarding Glutathione:
"Glutathione is a substance, the levels of which in our cells are predicative of how long we will live. There are very few other factors which are as predicative of our life expectancy as is our level of cellular Glutathione. Glutathione has been called the master antioxidant and regulates the actions of lesser antioxidants such as Vitamin C and Vitamin E within the body. We literally can not survive without this antioxidant"
We have found in our clinical work enormous increases in Glutathione and liver detox within the first 24 hours of using our LifeWave Skin Care patch. As an example we see 10% to 15% increases in Glutathione levels PLUS 30% to 100% in Liver detox; this equates to 30% to 60% increases in Glutathione levels within the first few days of use !
Now we have an entirely new way of improving health and skin quality. Within days your skin will look refreshed, renewed and revived!
For more information on this breakthrough process, call 800-630-6575.

We are delighted to announce that our ground-breaking new NanoTechnology Skin Care Patches may now be ordered as a stand-alone product!

The pre-launch of this system has been a great success, generating lots of sales and enthusiasm for our distributors. And the testimonials are rolling in. We're helping people all over the world to improve the quality of their skin in a simple, natural way.
During these last few weeks we have been inundated with requests from people who would like to buy (and sell) the Skin Care Patches on a stand-alone basis, and we have decided that now is the time to do that. So, effective immediately, we will begin taking orders, to be shipped out the middle of next week.
---
I invite you to read through what
most find to be the most intelligent, yet
respectful and down-to-earth, web site on
Lifewave™ Technology and
Lifewave™ Products.

The Gear Guru", Patrick Netter, syndicated on national TV, "The Daily Buzz" who is seen in 121 markets by more than 50 million viewers a year, takes a deep, investigative look at LifeWave and sits down, for a one-on-one with LifeWave inventor, David Schmidt, President of LifeWave, Mike Collins, who was VP at a billion dollar company, PepsiCo, LifeWave's head medical researcher, Dr. Haltiwanger, 8 time NCAA Champion and Olympic Coach Champion, Richard Quick, and more. This DVD presentation is a compilation of what caused Patrick Netter to say; "I have seen hot trends and I have seen hot products, but I personally felt what this technology can do.
Software For The Human Body?? …....This Is Huge!"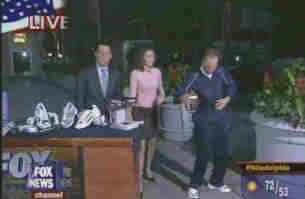 Check Out This 8 Minute Overview.
---
Our patches are really not as bizarre as one might think. Just as semiconductors, in all
electronic components, are 'excited' when energy passes through them, so are organic
materials. Any organic material will vibrate when energy is passed through or near it.
When the organic material in the patch comes in contact with body's energy field, it
vibrates, sending out a resonant frequency. Now, just as an FM radio wave, the
sound is carried to your radio by what is called a carrier frequency. The frequency
of the vibrating organics in the patch act the same way, carrying the coded
information to the desired body part.
David Schmidt has a design philosophy to provide the consumer with products that are safe and efficacious. Although all LifeWave technology products are non-medical devices they manufacture their patches to the highest standards; all active organics are listed under FDA 21 CFR (recognized as safe); the adhesive are made by 3M and is hypoallergenic; and the finished products are assembled at FDA registered facilities.
People are surprised that, after use, their patches still have everything in them. We are frequently ask "Why didn't it get absorbed?" The answer is because absolutely nothing goes into the body ! You receive the exact same results even if you put the patches in a plastic bag and tape them on !

---
A personal note......
When I was approached with the Lifewave Patch Nanotechnology, I had the usual preconception that most anyone would have; that this is rather hard to believe. We are so inundated with new products that even if all were legitimate, we would be hard pressed to accept and implement them. When we add in the deception we so commonly and disturbingly see in these times, then indeed, it is appropriate for us to question everything.
However, I realize that there will always be legitimate new products, or "breakthroughs" that can make our lives better. Just as people 25 years ago could never envision how we live today, we cannot envision how people will live 25 years from now. I realize I must not "throw out the baby with the bath water". There are some incredible things on the horizon. Most likely, there always will be. Why would inventions stop now? In 1889, the United States Patent Office was going to permanently close because "everything that can be invented has been invented".
If a new concept is easily understood, then it isn't a true "breakthrough". True breakthroughs defy what we commonly know or experience...and as we all know, history is filled with concepts that were thought to be impossible, yet they weren't. This is a breakthrough and there is enough substantial evidence, scientific, as well as reputable names in this web site that will allow you to feel comfortable saying to yourself.... well, maybe this is possible! I think it is interesting that a breakthrough this significant, enough to warrant a "Pioneer Patent" from the U.S. Patent Office, is based on 3000 years old proven principles.
What you won't find here are elaborate claims and outlandish hype that we are so commonly inundated with. What you will find here is hard data, 3 years of research, and scientific double-blind studies, and more notable people using our patches than you care to see, all which point to a concept and product that does have the potential to redefine our health. It is interesting to note that Microsoft has already been awarded a Patent for powering hand-held products through the body. "Nanotechnology" is coming. If you don't believe it, do a web search for nanotechnology, or look into the NASDAC Stock Exchange. You will find many companies now working in this field.
When you think about all the incredible inventions we have seen in just OUR lifetime, and then ask yourself what will be the next trend, then this really becomes fairly logical. Take the time to see what is here and if you like, give me a call. I am happy to speak with you, honestly, and respectively, to answer any and all questions you may have. I will share with you information about "corporate" and show you logical and understandable reasons why this company, and its products, are what they say they are. Feel at ease; you won't hear me say "guaranteed" or "limited time offer", or "buy now" or "cash back"!! What you will hear is enthusiasm, sincerity, and integrity.
I have had the honor to have been with this company since before they opened. I have seen, first-hand, results that I would not have thought possible. Yes, these patches do work for the vast majority of people; and for those people, it is amazing. LifeWave's Patches have made a big difference in my life and it HAS made a difference in a lot of people who have tried them. That's is why I have always offered a $25 5-Day Trial Pack; not much to risk for something that could make a difference in your life. I really dislike cliches but it fits. You really do owe it to yourself to at least try it.
---


[Home] [Energy Enhancing Patch] [HOT ICE] [Face Lift] [RestQuiet Sleep Patch] [Project PATCH] [Testimonials]
[Look Who's Wearing !] [Latest News !!] [How It Works] [Frequent Questions] [In Depth Information] [Studies] [Microsoft Patent] [Patch Application] [Athletes' Breakthrough] [Purchase] [1st National Convention] [Contact Us]
Dreamsenders.com and lifewave.com are not liable for any statement, omission, or misrepresentation in the web site. The statements herein have not been evaluated by the Food and Drug Administration. We certify that all LifeWave patches are manufactured at FDA registered facilities and in accordance with the specifications in our Patent filing. LifeWave, Dreamsenders.com does not endorse claims or have scientific proof that it's products are effective in the cure, mitigation, treatment or prevention of disease in man or animal. This product is not intended to be used in the treatment, prevention or cure of disease. Use product only as directed. Do not use product if you have a health condition. Please consult your healthcare professional before using should you have any concerns. The adhesive of our patches is hypoallergenic however if you experience a skin irritation simply discontinue use. Should any of the contents of the patches make contact with skin simply wash with water to remove. Should you experience any type of discomfort from the use of this product discontinue use. Please review all instructions and information about this product before using. STORE LIFEWAVE ENERGY PATCHES IN A COOL DRY PLACE.
www.collagenpatch.com

To order product, or to find out more information, please contact Cekaitah at 1-250-859-8127 the "LifeWave Authorized Distributor" who has contacted you or sent you to this web site.

or please call Rich at 1-800-630-6575 and we will attempt to find the person you were speaking with.